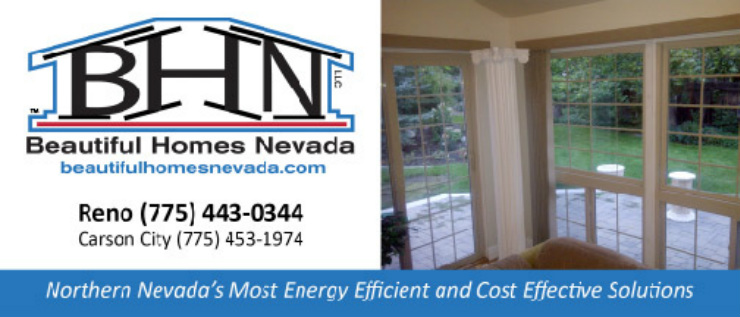 BHN (Beautiful Homes Nevada), is a specialized window replacement and siding company. Our focus & expertise lies in energy efficient solutions. We offer custom built insulated replacement windows and our siding is also insulated in a 3rd generation vinyl/composite panel. We are a local company of many years serving Northern Nevada. At BHN we maintain that aligning the highest energy efficient rated products at factory direct prices, along with an award winning company to install those products, and a One-Stop-No-Nonsense Warranty makes for the most cost effective investment a homeowner can make!
(see more 'about us' & facebook!)


Windows & Patio/Fr
ench Doors
LIC# 79738
BHN Proprietary licensed Window
Insulated Vinyl Replacement Windows with Low-E and Argon! (unique to our elevation)
Lifetime -
No- No
nsense Factory Direct
Warranty & dealer! Our windows are custom built and
offered in every window style
, and perform superior for not only energy efficiency (significant savings), but also noise reduction,
wind/water infiltration and UV protection.
(more under products tab)
Siding
LIC# 80239
Exclusive Celect Siding Dealer
Celect Composite Siding is the most innovative panel in the industry that delivers an uncompromised wood look that doesn't need paint and 70% more energy efficient than wood. NO SEAMS! Our customers experience not just energy savings but sound insulation and the freedom of
never
having to
paint again
!
(more under products tab)
​